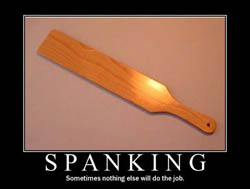 Spanking is arguably one of the easiest ways to spice up your love life. It is also one of the easiest sells to a partner. It does not require any toys, though there are a number of toys one can purchase to make it even more interesting. Also it has the benefit of being a more socially acceptable kinky activity. If you are new to exploring BDSM this is absolutely one thing to explore. Even if you are not new to BDSM this is definitely one of those activities that it is worth getting a handle on and perfecting.
History of Spanking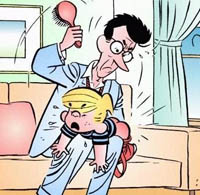 It is rather difficult to track the history of spanking but there are some very obvious correlations that one can make to beginnings of spanking being prevalent in the home. One need only look to the Bible and see that spanking your child was not only acceptable, it was encouraged. For example, "he that spareth his rod hateth, his son; but he that loveth him chasteneth him betimes" (Proverbs 13:24, King James Bible). Or, the more well known version, spare the rod spoil the child. Another stellar example is from Proverbs 12:15 "Foolishness is bound up in the heart of a child, but the rod of discipline will drive it far from him". These proverbs clearly demonstrate that to ensure your child grows up well you need to discipline them by striking them somehow. For the purpose of this article we will not be digging further into the history of spanking, suffice it to say that it has been encouraged as a form of corrective therapy for children for a very long time.
Playing Safe While Spanking
Spanking is personally one of my favorite activities to add to the bedroom or to any BDSM scene. It is the perfect blend of intimacy, intensity and pleasurable pain. If you are attempting to add some spice to your personal love life then spanking is a perfect first step. Remember to never strike out of anger, warm up the bottom in question and pay attention to your subs reactions and body language. Remember, as the delicious dominatrix Ilona Paris once said "S&M isn't always about pain; sometimes it's about fear and control in the most wily of ways" (2008). So exert your control, even if all your doing is making the suggestion to try something different tonight.
Written September 20, 2011 | Updated April 25, 2015
Article References
Block, J. (2010). Fox on Sex: Please, Ma'am, May I Have Another? Spanking 101. Retrieved from http://www.foxnews.com/health/2010/06/14/fox-sex-maam-spanking/ on August 23, 2011.
Fet Life. (2011). https://fetlife.com/search/groups?q=Spanking. Retrieved on September 04, 2011.
King James Bible
Paris, I. (2008). You Know You Like It. 106-121.
Payne, P. (1999). Sex Tips from a Dominatrix. 114 - 118.
Shadow Lane. (2011). www.shadowlane.com. Retrieved on Stepember 01, 2011.
Image References
Someone else's art deserves recognition! The images presented in this article were borrowed from the following places:
Header Image: https://andelino.files.wordpress.com/2014/06/bdsm-03.jpg?w=450&h=306 | Retrieved April 25, 2015
Image 1: http://2.bp.blogspot.com/-TsCEJidvY-c/TdUw_wYHKEI/AAAAAAAAD3s/JqYSyKyk3Y0/s1600/spanking.jpg | Retrieved September 20, 2011