Having a system of safewords is an important part to safe play. So what is it? The safeword system is a word or set of words that are agreed upon prior to entering the play scene. These words are used to signal that the scene is getting too intense or unwanted harm is probable to occur (Wiseman, 1998). It tends to be for the benefit of the bottom in a scene but they are for the dominant to use as well (A Submissives Journey, 2011).
A safeword may be a single word or a set of words to indicate different intensity levels. For example, a number of players will use the Stoplight system. When a scene gets too intense and play needs to stop immediately, "Red" is the safeword used. If a player needs the scene to maintain the same intensity or alert their partner to a potential growing discomfort without stopping the scene, "Yellow" could be used to communicate this while "Green" would be the word indicated a full go ahead with no concerns (lunaKM, To Safeword or Not To Safeword, 2009).
Why Use Safewords?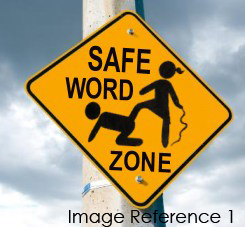 For those of you who are new to this concept, you may be wondering why a person may not just say "Stop" or "That hurts, please stop I don't like it". There are some people that this would work perfectly well for (Thomas, 2010). Safewords are intended to be used as a reality check when the participants want words like "no" to take on a different meaning; to say "no" and let their partner know that they do not really want the play to stop (Varrin, 1998). As is often quoted by many of the community, protestation may be part of the game. Safewords have the advantage of being an indisputably clear and undeniable request for activity to stop (Lickerman, 2012). It is how BDSM players can signal an irrefutable withdrawal of consent. Many people feel comfortable with the Stoplight system and play partners will establish a house recognized safeword but you can choose what works for you.
Safewords give players the freedom to explore new ground in a way that establishes a clear communication, diminishing discomfort or anxiety about trying new activities (A Submissives Journey, 2011). Even experienced partners familiar with playing with each other may have need of safewords. A change of lifestyle, stress, health, or medication can all change a person's frame of mind and therefore their endurance or desire for intensity of a particular activity. No session is the same and a high level of intensity that was amazing two weeks ago could be too intense for today. Some long established players feel that safewords aren't necessary. This has raised some controversy about the use of safewords but for the safety of everyone, one should be established even if it's never used.
More Info on Safewords
How do you choose what works for you?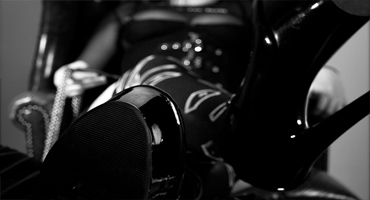 When a safeword is used, what happens next?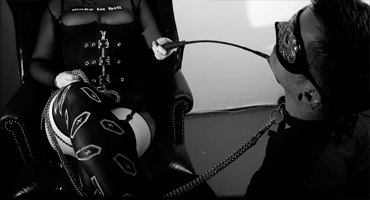 Why wouldn't you use a safeword?
Play Safe, Play Ethically
Safewords are an important piece of establishing a secure and trusting play relationship. It should be a part of the conversation you and your partner have around consent that takes place before your actual play scene. If you are playing with someone new at a play party, you can just agree to use the house standard but you may wish to choose something more personal for an ongoing relationship. The important part is to select something that works for both you and your partner. You both should feel comfortable using your safeword. Share this article to spread awareness around safewords! You can also join our mailing list to stay up to date with new articles. Support Keeping it Kinky by purchasing something from our online store.
Written April 9, 2014 | Updated October 18, 2016
Article References
A Submissives Journey. (2011). Establishing a "safe word". Retrieved 01 11, 2014, from A Submissives Journey: http://www.asubmissivesjourney.com/safe_word.html
BitchMedia. (2013). Thinking Kink: Safewords. Retrieved 04 02, 2014, from Bitch Media: http://bitchmagazine.org/post/thinking-kink-safewords-bdsm-sex-feminist-magazine-sexuality-media
Blaze, M. (2010, 04 22). Safe Word Ideas - for Dominatrix and sub. Retrieved 04 09, 2014, from Arena Blaze: http://www.arenablaze.com/article.php/safe-word-ideas
Clark-Flory, T. (2012, 01 28). When safe words are ignored. Retrieved 04 02, 2014, from Salon: http://www.salon.com/2012/01/29/real_abuse_in_bdsm/
DrHGuy. (2006, 06 02). 13 Mistakes To Avoid When Selecting A Safeword For BDSM Play. Retrieved 04 09, 2014, from Heck of a Guy: http://1heckofaguy.com/2006/06/02/urbane-skills-how-the-optimal-sub-avoids-suboptimal-safe-words/
Hunter, M. (2001). To Red or Not to Red. Retrieved 04 02, 2014, from A Submissive's Journey: http://www.asubmissivesjourney.com/safeword_red.html
Kinsey, K. (n.d.). Why You Should Use Safewords:. Retrieved 04 09, 2014, from Kate Kinsey: http://www.katekinsey.com/safewords.html
Lickerman, A. (2012, 11 11). The Magical Power Of "Safe" Words To Prevent Harm. Retrieved 04 09, 2014, from Psychology Today: http://www.psychologytoday.com/blog/happiness-in-world/201211/the-magical-power-safe-words-prevent-harm
lunaKM. (2009, 09 21). The Safety Disguise of Safewords. Retrieved 04 02, 2014, from Submissive Guide: http://www.submissiveguide.com/2009/09/safety-disguise-safewords/
lunaKM. (2009, 01 01). To Safeword or Not To Safeword. Retrieved 04 09, 2014, from Submissive Guide: http://www.submissiveguide.com/2009/01/to-safeword-or-not-to-safeword/
NotJustBitchy. (2013, 08 13). Safewords: they're just words. Retrieved 04 09, 2014, from Not Just Bitchy: http://www.notjustbitchy.com/safewords-theyre-just-words/
Thomas. (2010, 07 01). The Annotated Safeword. Retrieved 04 02, 2013, from Yes means Yes: http://yesmeansyesblog.wordpress.com/2010/07/07/the-annotated-safeword/
Varrin, C. (1998). The Art of Sensual Female Dominance: A Guide for Women. New York: Citadel Press.
Will. (2013, 01 06). Why Safewords Are Not Safe. Retrieved 04 09, 2014, from BDSM: Things you Need to Know: http://thejourneyofwill.blogspot.ca/2013/01/why-safewords-are-not-safe.html
Wiseman, J. (1998). SM 101. Gardena, CA: Greenery Press.
Image References
Someone else's art deserves recognition! The images presented in this article were borrowed from the following places:
Header Image: https://p.gr-assets.com/540x540/fit/hostedimages/1380432392/868518.jpg | Retrieved April 15, 2015
Image 1: http://www.arenablaze.com/images/articles/safe-word-ideas_1.jpg | Retrieved April 9, 2014