Along with stock homosexual, and even bisexual characters on some television shows and movies, there are now, sometimes, stereotype kinky people depicted in popular culture. The most notable one recently has been on CSI: Las Vegas, beginning in season 2 of the popular crime investigation drama in the episode "Slaves of Las Vegas"(2001). This episode of the show introduced Lady Heather, a self-identified dominatrix, played in a re-occurring role by Melinda Clarke. It is a breakthrough performance in the sense that the character is given human qualities, despite her professional vocation of administering pain, bondage, discipline, and other proto-typical Sado-masochistic behaviours upon her clients.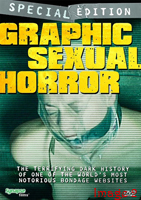 Typically, persons engaged in BDSM practice have been pathologised as is more common in shows like Law & Order: Special Victims Unit. ("Stocks and Bondage, 1999). Rarely in these programs are persons shown living in happy, functional, and fully kinky relationships with others. Often these activities are seen as leading to assault, murder, and occur only in a sexualised or overtly sexual fashion.
Clarke's portrayal is a more dynamic character, with complex reasons for pursuing and gaining profit from her interests. The intellectual scientist Grissom responds to her charm and wit. She is beautiful, intelligent, and relatively stable financially. She has a personal life. She is not a one-dimensional character.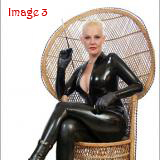 Most mainstream media focuses on the Sado-masochistic axis of sexulised domination and submission. The signifiers have become well entrenched in modern media symbologies: whips, chains, zippers, leather, latex, pvc, etc. The platform stiletto or "fetish" heel has appeared to have lodged itself firmly into fashion canon, without anyone wondering how it "mainstreamed" from pornography, exotic dancing, and the sexual underground, to the shoe store in the mall. But to many, this is just the artifice, the truth of BDSM, to the more involved practitioner, is in the sensations.
Those who engage in sense-play especially involving elements such as fire, sharp objects, and piercing may not be gaining explicitly sexual gratification from their activities (Baumeister, 1989); this type of play often gives the players intense sensation but not necessarily orgasmic release (Ross 1997). In fact for some, pain itself may be the individual's goal, as in the most universally agreed upon definition of masochism and while pain and pleasure can be conflated at times, for some they may not always have the exact same position within individual subjective sense-perception (Levenkron, 2006).
These practices are hardly ever talked about, or displayed in modern media. They are more often shown as ritualised, religious, or primordial in nature. Those in worship of the Hindu god Murugan engage in forms of ritual piercing, practices that involve trance to allow the mind of the devotee to transcend pain and physical reaction (Stoller, 1998). Human history abounds with accounts of religious ascetics who whipped or flagellated themselves.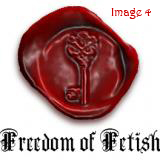 Films such as the Da Vinci Code (2006) features the monk Silas who practices self-mortification, even wearing a metal cilice, while the HBO television series Boardwalk Empire (2010) features an ultra-religious IRS agent who uses a belt to injure his back. These are just current examples and both of these characters could be considered extremists in their choice of masochistic activity.
The media representation of BDSM behaviours often finds itself confused with these other activities. BDSM may have religious or spiritual people amongst the self-declarative "kinkster", but that is not the only impulse that motivates their engagement. As with homosexuals, bisexuals, asexuals and all the variation within the human species, the motivations are often individual, personal categories and therefore to represent them all, with veracity and tolerance, is an ongoing, unfolding process.
Categorically, not all roles or performers are synonymous. You don't have to be kinky to act like someone who is.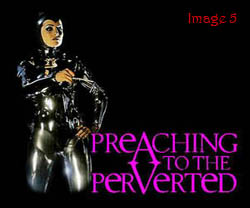 Does pop star Rhianna really like "S&M" (2009)? Or is an industrial band like Ministry more able to accurately discuss "Vex and Siolence" (1999)? We can hope in the future, that kinky people will be able to see themselves portrayed in all their diversity, just as transpeople, men, women, all people, might wish to experience mediascape images, lyrics, and other modern cultural products that more accurately are about them and their lives. To find community and society, a place that resonates and is tolerant, where one can simply "be".
Image References
Someone else's art deserves recognition! The images presented in this article were borrowed from the following places:
Header Image: http://cdn.ipernity.com/140/63/65/29106365.e4b56706.640.jpg?r2 | Retrieved April 15, 2015
Image 1: http://api.ning.com/files/sMwCuEF6LeWg6ytFTTlF5KhQYbSsQxpZLFPJo-kYEIch-OaAQO4oI*cLLSHdQKMlj6CdNS6c7G8PievN1KS9R8uB1zZVnGdb/gshsmalldvdcover.jpg | Retrieved April 15, 2015
Image 2: http://files-cdn.formspring.me/profile/20110331/n4d94656eda72e_large.jpg | Retrieved April 15, 2015
Image 3: http://images.wikia.com/davincicode/images/5/50/Silas.jpg | Retrieved April 15, 2015
Image 4: http://files-cdn.formspring.me/profile/20100320/n4d955e14b3488_large.jpg | Retrieved April 15, 2015
Image 5: http://api.ning.com/files/Inpp8D6jY9GjbMugM7Rs4TUVj-sZvDYBSyHBkkYAX*IR1geGlldoqxexgfXiSjTQXN-zZ1TlrpDais1s42jlHGZI9n0rFtxM/preachingtotheperverted.jpg | Retrieved April 15, 2015