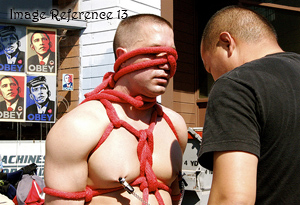 Before you apply your clamps, be sure your partner is ready. Get your partner aroused and stimulate their nipples. The clamps should not be applied until the nipples are erect (SexyChele, 2012). Feedback is really important in the use of clamps. If this is a new experience to you or your partner, be sure to establish a line of communication about their use. Everyone has a different pain tolerance and experience and this will vary considerably in the beginning use of this toy.
If this is your first time with clamps, try clipping them to the webbing between your fingers. This can allow you to get an idea of how much tension to use. If they are not adjustable clamps, leave them there for a short time, this will allow you to get a feel for the continued pressure and if it might be too much. When you place the clamps, be sure not to place them too close to the end of the nipple or they will be likely to pop off the nipple (DI, 2005). If the clamp is applied to wet skin, it will hold tighter since the moisture will form a seal between the clamp and flesh (Shadowborne, 1998).
For good placement, pinch the nipple and pull forward a little. Place the clamp closer to the chest as this will ensure they stay on and a good beginner position (Rad, 2011). Once the nipple clamps are on, feel free to experiment with your partner. You can try sense play over the nipples or any type of nipple play the two of you may already enjoy. To temporarily relieve the tension off your partner, you can pull gently on the clamp (or chain attached to a set of clamps) to change the sensation.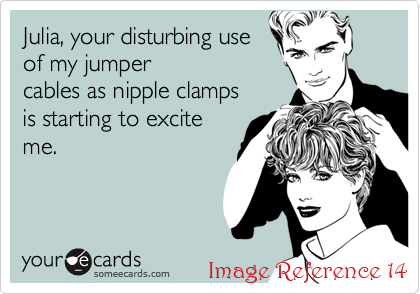 As clamps restrict blood flow be careful to keep an eye out for changes in temperature in your partner or skin discoloration (HomoHealth, 2001). If the clamps are left on too long and blood flow is cut off completely for a prolonged period, tissue will begin to die (Bondage Brittney, 2008). So how long should nipple clamps be left on? There is a bit of variability in opinion. Some feel that clamps should never be left on longer than 10 minutes at a time (SexyChele, 2012), some say 15 minutes at a time (HomoHealth, 2001) while others say that they can be left on for a maximum of 30 minutes at a time (Myrtle, 2008). The other thing you need to consider in the amount of time they are on is how tightly the clamps are. The more force used to squeeze the nipple, the less time you can leave them on without damage (Shadowborne, 1998). Use your best judgement and listen to your body and your partner. If you are new to clamps, less is more, start slow.
If the skin is sticking to the clamp, hold the skin while carefully easing the clamp away. If you pull too quickly, then skin will rip off with the clamp (Shadowborne, 1998). When nipple clamps are removed, most people feel the pain of removal immediately (HomoHealth, 2001). This sensation is the blood rushing back into the area. The use of the clamps may cause some bruising, though not visible to the eye, and if they are frequently used callouses may form (Shadowborne, 1998).
Written October 25, 2013 | Updated April 25, 2015
Article References
Bondage Brittney. (2008). How long can Nipple/Clit Clamps be left on ? Retrieved 10 25, 2013, from BDSM Store: http://www.bdsmstore.com/bondagebrittney/bondagebrittney006.asp
Care Giving Blog. (2012, 08 24). The Safe Use Of Nipple Clamps. Retrieved 10 25, 2013, from Care Giving Blog: http://caregivingblog.com/2012/08/24/the-safe-use-of-nipple-clamps/
DI. (2005). How to Use Nipple Clamps During Bondage. Retrieved 10 25, 2013, from DI's Universe: http://www.missdi.co.za/paige2/general_guidelines/Nipple_clamps_during_bondage.htm
HomoHealth. (2001). Nipple Play. Retrieved 10 25, 2013, from Homo Health: http://www.homohealth.org/mens_program/sexualhealth/nipple.htm
Lovehoney. (2010). How to Use Nipple Clamps and Suckers. Retrieved 10 25, 2013, from Lovehoney: http://www.lovehoney.co.uk/blog/2010/02/05/nipples-clamps-suckers-clips/
Mason, C. (2012, 10 25). Nipple Clamps: All You Need To Know by Hella Walkington. Retrieved 10 25, 2013, from Female First: http://www.femalefirst.co.uk/love/Nipple+Clamps-263272.html
Myrtle, D. (2008). How to safely use nipple clamps. Retrieved 10 25, 2013, from A Woman's Touch: http://www.a-womans-touch.com/dr_myrtle.php?articleID=2830
PHE Inc. (2013). How to Use Nipple Clamps. Retrieved 10 25, 2013, from Adam & Eve: http://www.adameve.com/t-nipple-clamps.aspx
Rad, L. (2011). Nipple Clamps for Beginners. Retrieved 10 25, 2013, from Sex is Fun: http://sexisfun.net/blogs/2010/02/nipple-clamps-for-beginners.html
SexyChele. (2012). Nipple Clamps 101. Retrieved 10 25, 2013, from Literotica: http://www.literotica.com/s/nipple-clamps-101
Shadowborne, R. (1998). Types of Play 5; Clamps. Retrieved 10 25, 2013, from Leather Roses: http://www.leathernroses.com/generalbdsm/raventypeplay5.htm
Image References
Someone else's art deserves recognition! The images presented in this article were borrowed from the following places:
Header Image: http://upload.wikimedia.org/wikipedia/commons/9/93/Nipple_clamps_MMB_01.jpg | Retrieved April 25, 2015
Image 13: http://farm4.static.flickr.com/3004/2902265799_9c9f19c9ac.jpg | Retrieved October 25, 2013
Image 14: http://static.someecards.com/someecards/usercards/440008f88fa45f4c19c2b5be5d0de0fbdc.png | Retrieved October 25, 2013