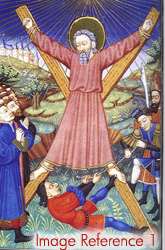 The St Andrew's cross is a common piece of dungeon equipment in the shape of a large "X" with bars of equal length. It is used in BDSM to restrain a bottom to while engaging in other kinky activities.
History
St. Andrew was a fisherman and brother to Simon, who Jesus would later call Peter. St Andrew was among the first to be called to be a disciple of Jesus (National Records of Scotland, 2011). Andrew played an important role as an Apostle and was given authority to preach, force out evil spirits, as well as heal sickness and disease. He was believed to have witnessed the Resurrection of Christ and received the Holy Spirit. He left to spread the Gospel and in Patras, he baptized the wife and brother of the Governor. This outraged the Governor so much he called for St. Andrew's execution (St Mary's RC Cathedral, 2013). Andrew insisted that he was not worthy enough to be crucified on the same cross as Jesus (Scottish History Online) so he was crucified on a cross in the shape of an X, also called a saltire (Seiyaku). He was executed on November 30th 60AD and the cross became a symbol of his martyrdom (St Mary's RC Cathedral, 2013).
Material
So what are St. Andrew crosses typical made of? Material for this dungeon piece is often based on personal preference and budget. They are typically made of wood but can also be made of metal. There is also a lot of variety in terms of level of decoration. Some will have extra hooks for restraints or cushions, but the basic model can be the simple saltire shape.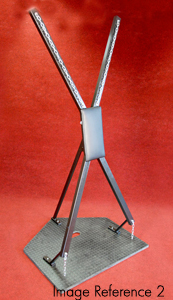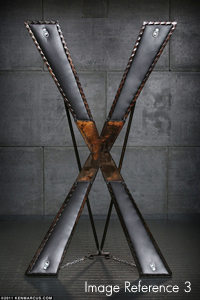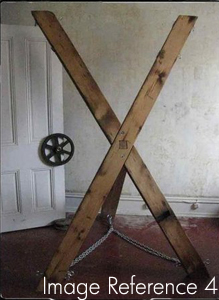 Cleaning & Care
Appropriate cleaning and care of this piece is dependent on the materials used. It is important that all dungeon equipment be kept clean and sanitary for safety. This is typically accomplished with a blended soap, sterilizing fluid, or bleach and water combination. Which solution is used should be taken into account what materials you are cleaning. If using a wood cross, particularly one with leather covered cushions, there are many appropriate soaps on the market that will sanitize without damaging your materials and extend the life of your dungeon piece.
Community Links
http://www.foxyfurniture.com/index.html
http://www.saroftreve.com/workshop/cross.shtml
Written July 23, 2013 | Updated April 26, 2015
Article References
National Records of Scotland. (2011, 11 23). Saint Andrews Seals Scotland's Independence. Retrieved 07 23, 2013, from The National Archives of Scotland: http://www.nas.gov.uk/about/051124.asp
Scottish History Online. (n.d.). Saint Andrew and His Flag. Retrieved 07 23, 2013, from Scottish History Online: http://www.scotshistoryonline.co.uk/saltire/saltire.html
Seiyaku. (n.d.). St. Andrew's Cross. Retrieved 07 23, 2013, from Seiyaku: http://www.seiyaku.com/customs/crosses/andrew.html
St Mary's RC Cathedral. (2013). National Shrine of Saint Andrew. Retrieved 07 23, 2013, from St Mary's RC Cathedral: http://www.stmaryscathedral.co.uk/standrew.html
Image References
Someone else's art deserves recognition! The images presented in this article were borrowed from the following places:
Header Image: http://images2.backpage.com/imager/u/large/157623291/image.jpg | Retrieved April 26, 2015
Image 1: http://cdn3.thomhartmann.com/sites/default/files/saintandrew.jpg | Retrieved July 23, 2013
Image 2: http://www.sexshop365.co.uk/catalog/images/hoverimage/HESAC22x2.jpg | Retrieved July 23, 2013
Image 3: http://s50cabc128bd1e.img.gostorego.com/809E82/cdn/media-v2/s5/0c/ab/c1/28/bd/1e/catalog/product/cache/1/image/9df78eab33525d08d6e5fb8d27136e95/s/t/st-andrews-cross-bondage-furniture.jpg | Retrieved July 23, 2013
Image 4: http://lumberjocks.com/assets/pictures/projects/70076-438x.jpg | Retrieved July 23, 2013