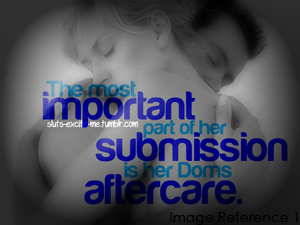 All scenes, no matter what their focus is, should include some kind of aftercare component. In its most basic form, aftercare can be thought of as the willingness to support your partner after a play session to ensure return to an everyday state of mental and emotional equilibrium (Dexter, 2012). This time is used to provide comfort and support to both players. It signals to both parties that they are valued and appreciated (A Submissive's Journey, 2013) and is one of the distinctions between engaging in BDSM and abuse (Peyton, 2013).
BDSM scenes, no matter where they range from pain causing elements to mental power exchanges, can change a person's headspace and include a certain high caused by endorphins flooding the blood stream (Fox, 2012). These endorphins are joined by other neurotransmitters such as dopamine. As endorphins inhibit the pain receptors, the brain floods with dopamine which activates the reward center and fills you with euphoria. When the dopamine levels subside in the brain, a neurochemical called prolactin is released. Research has shown that prolactin is a stress hormone that keeps the dopamine levels in your brain in check; this neurochemical has been linked to feelings of depression and alienation (SirReal, 2007). It is easily understandable why coming from this high can cause some players to feel emotional and in need of some type of support, physical or otherwise (BedroomBondage, 2013). Engaging in aftercare can strongly increase the intimacy between two players and while often geared towards the bottom, it benefits the top as well (Peyton , 2013).
Learn More About Aftercare
Now that we know why it's important, take a moment to find out more about the details of aftercare and how you can apply it to you and your partner.
Complete Your Scene with Aftercare
When you negotiate your scene with your partner, include some questions about what type of aftercare they like. Everyone is a little different so don't make assumptions on what will make your partner comfortable. Also what kind of aftercare you use will be dependent on what type of relationship you and your partner have, whether romantic or friendship. Choosing the right kind of aftercare for you and your partner will help return you both to a happy equilibrium and help dispel any drop either of you feel from playing.
Article References
A Submissive's Journey. (2013, 03 10). Aftercare. Retrieved 05 13, 2014, from A Submissive's Journey: http://www.asubmissivesjourney.com/after.html
Abode, M. (2013, 05 25). Emergency Self-Administered Aftercare. Retrieved 05 28, 2014, from A Submissive's Initiative: http://asibdsm.com/emergency-self-administered-aftercare-by-mistress-abode/
BedroomBondage. (2013, 04 26). BDSM Aftercare 101. Retrieved 05 14, 2014, from BedroomBondage: http://www.bedroombondage.co.za/aftercare-101-bdsm-how-to/
Dexter, D. (2012). BDSM 101: Subspace, Aftercare, and Sub-drop (and sometimes Top-drop). Retrieved 05 14, 2014, from Articles on BDSM: http://chicomunch.com/publ/basic_info_about_bdsm/bdsm_101_subspace_aftercare_and_sub_drop_and_sometimes_top_drop/1-1-0-23
Fox, K. (2012, 10 07). Play it Safe: BDSM safety and aftercare. Retrieved 05 14, 2014, from Examiner: http://www.examiner.com/article/play-it-safe-bdsm-safety-and-aftercare
KinkRealm. (n.d.). TWO-WAY AFTERCARE, AN ADDENDUM. Retrieved 05 14, 2014, from Kink Realm: http://www.thekinkrealm.com/article/two-way-aftercare-an-addendum/
Lauren. (1998). Safety and BDSM. Retrieved 05 28, 2014, from Sexuality.org: http://www.sexuality.org/authors/lauren/AboutBDSM2.html#aftercare
Logan, P. (2013, 10 09). BDSM and Aftercare. Retrieved 05 14, 2014, from Author Particia Logan: http://authorpatricialogan.com/index.php/blog/8-bdsm-and-aftercare
lunaKM. (2009, 01 26). Caring for Yourself after a Scene: Self-aftercare. Retrieved 05 28, 2014, from Submissive Guide: http://www.submissiveguide.com/2009/01/caring-for-yourself-after-a-scene-self-aftercare/
M, C. (2012). Aftercare. Retrieved 05 14, 2014, from Leathern Roses: http://www.leathernroses.com/generalbdsm/chrismaftercare.htm
mohawkdaddy. (2013, 06 13). sub/Dom Space, sub/Dom Drop and Aftercare. Retrieved 05 14, 2014, from Dominant Life: http://dominantlife.tumblr.com/post/52864691001/sub-dom-space-sub-dom-drop-and-aftercare
Peyton , E. (2013, 05 08). Aftercare and its importance. Retrieved 05 14, 2014, from Safeword LLC: http://www.safewordllc.com/1/post/2013/05/aftercare-and-its-importance.html
Raymond, J. (2014, 01 24). Aftercare and BDSM Play. Retrieved 05 14, 2014, from Jolynn Raymond's Dark Obsession: http://jolynnraymond.com/2014/01/aftercare-and-bdsm-play/
SirReal. (2007). The Science of BDSM: Understanding Is the Key To a Good Scene. Retrieved 05 14, 2014, from Rose Colored Asses: http://www.rosecoloredasses.com/sirreal/bdsmscience.htm
St. John, J. (2012, 08 06). Emotions of Aftercare. Retrieved 05 28, 2014, from Madison Kink : http://madisonkink.com/emotions-of-aftercare/
Thorn, C. (2012, 06 16). S&M Aftercare. Retrieved 05 28, 2014, from Clarissa Thorn: http://clarissethorn.com/2012/06/16/sm-aftercare-or-brainwashing/