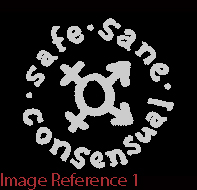 History of Safe, Sane, & Consensual
The phrase "
Safe, Sane, and Consensual
" (sometimes shortened to SSC) can be traced back to the GMSMA report in August of 1983, which appears to be its earliest mention. It is thought that the "safe" and "sane" originated from the sayings of having a "safe and sane" 4th of July celebration. The idea of having a good time while being careful seemed appropriate for BDSM and began to pick up in popularity (Stein, 2000). As BDSM communities became more cohesive and an accepted place to express our kinky interests, it became a saying of safety and an ethical practice. The idea has continued to evolve among the BDSM culture.
Safe, Sane, & Consensual in Practice
Someone not engaged in the BDSM lifestyle may look at BDSM and wonder how "safe, sane, and consensual" enters into the picture as they may see BDSM as unsafe or unhealthy by definition. The common dictionary states that safe is to be "secure from liability to harm, injury, danger, or risk" (LCC, 2011). In this context, kinksters see safe BDSM as taking care of their partner so that no matter how intense the scene may be, no unwanted injury or transfer of danger disease occurs; that all precautions have been taken to minimize potential dangers (Kay, 2011). This means doing the research and being knowledgeable about your chosen kink activities to protect your partner as well as yourself. In order to be safe you must know the risks of BDSM and which activities add spice without causing permanent or lasting damage to the emotional, mental, or physical state of either player.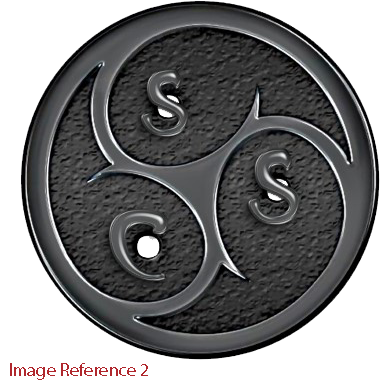 Sane is generally considered to be of a healthy mind and free from psychological derangement (LCC, 2011). Through the BDSM lens, this means that players act responsibly and exercise good judgement. The ability to engage in appropriate self control is a big part of the "sane" portion of this philosophy. If you cannot control yourself, you should not enter into a situation where power exchange is a key aspect (Kay, 2011). An important part of this piece is that BDSM should not be used as a solution for serious psychological conditions or mental health concerns. Playing with a partner where one person has some deep rooted concerns can trigger an emotional releases that neither player are prepared to handle within the boundaries of the BDSM scene.
Lastly, the consensual portion refers to the mandate that all players involved have given informed consent (Ownership & Possession, 1997). The importance of it being consensual is paramount to keep within BDSM ethics and ensure that this relationship is a healthy one where both partners are supported. If consent is not obtained not only is it damaging to the relationship but can point to an abusive dynamic. It is important that consent is obtained prior to a session and not during or after (Kay, 2011). This is particularly important because when endorphins are running hot from play time many of us do not make good decisions and fail to think the situation through completely.
Know Where Your Partner Stands on Consent
Safe, Sane, and Consensual is a great way to talk about the boundaries of consent for kink. Don't succumb to the common barriers to consent, show you care by ensuring that you are having that conversation that keeps you and your partner safe! It is also important to know how your partner views BDSM risk and their consent philosophy. Do they prefer the safe, sane, and consensual view? Or do they view their activities through the lens or risk aware consensual kink? Having a grasp of where your partner stands on consent makes for more satisfying and rewarding play time. Whether you choose SSC or R.A.C.K, be sure to communicate where you stand with your partner as well.
Written September 20, 2011 | Updated December 5, 2016
Article References
Amor, B. (2008, 08 25). BDSM 101 - SSC (Safe, Sane and Consensual) Vs RACK (Risk Aware Consensual Kink). Retrieved 10 13, 2011, from Associated Content: http://www.associatedcontent.com/article/950741/bdsm_101_ssc_safe_sane_and
_consensual.html
Brame, D. G. (2000). Come Hither: A Commonsense Guide to Kinky Sex. New York: Fireside Rockefeller Center.
Kay, T. (2011). Safe, Sane, and Consensual. Retrieved 09 25, 2011, from RCDC: http://www.rcdc.org/articles/tamar-ssc.html
LLC. (2011). Dictionary.com. Retrieved 05 20, 2011, from Dictionary.com: http://dictionary.reference.com/
Michael, M. (n.d.). SSC and RACK. Retrieved 10 13, 2011, from Louisville Munch: http://www.louisvillemunch.com/article/ssc-and-rack.html
Nichola, L. (2006). From SSC to RACK to RISSCK?. Retrieved 10 13, 2011, from Different Equals: http://www.differentequals.com/rissck.html
Norman, S. (1997). Safe, Sane Consensual?. Retrieved 09 24, 2011, from Safe, Sane Consensual: http://www.coolcatdaddy.com/cyrwyn/SafeSane.html
Ownership & Possession. (2003). Risk-Aware Consensual Kink. Retrieved 10 13, 2011, from Ownership & Possession: http://www.ownership-possession.com/wiki/Risk-Aware_Consensual_Kink/
Ownership & Possession. (1997). Safe, Sane, and Consensual. Retrieved 10 13, 2011, from Ownership & Posession: http://www.ownership-possession.com/wiki/Safe,_Sane,_and_Consensual/
Stein, D. (2000). Safe Sane Consensual. Retrieved 09 25, 2011, from Safe Sane Consensual: http://www.leatherleadership.org/library/safesanestein.htm
Switch, G. (2001). Origin Of RACK; RACK vs. SSC. Retrieved 10 13, 2011, from Leather Roses: http://www.leathernroses.com/generalbdsm/garyswitchrack.htm
TV Tropes. (n.d.). Safe, Sane and Consensual. Retrieved 10 13, 2011, from TVTropes: http://tvtropes.org/pmwiki/pmwiki.php/Main/SafeSaneAndConsensual
Image References
Someone else's art deserves recognition! The images presented in this article were borrowed from the following places:
Header Image: https://pbs.twimg.com/media/B-dfTYZIMAA3tUw.jpg:large | Retrieved April 13, 2015
Image 1: http://www.uncharted-worlds.org/graphics/ibadges/designs/safesane.gif | Retrieved October 13, 2011
Image 2: http://rlv.zcache.com/ssc_bdsm_triskel_photosculpture-p153813863028137766u7j7_400.jpg | Retrieved October 13, 2011