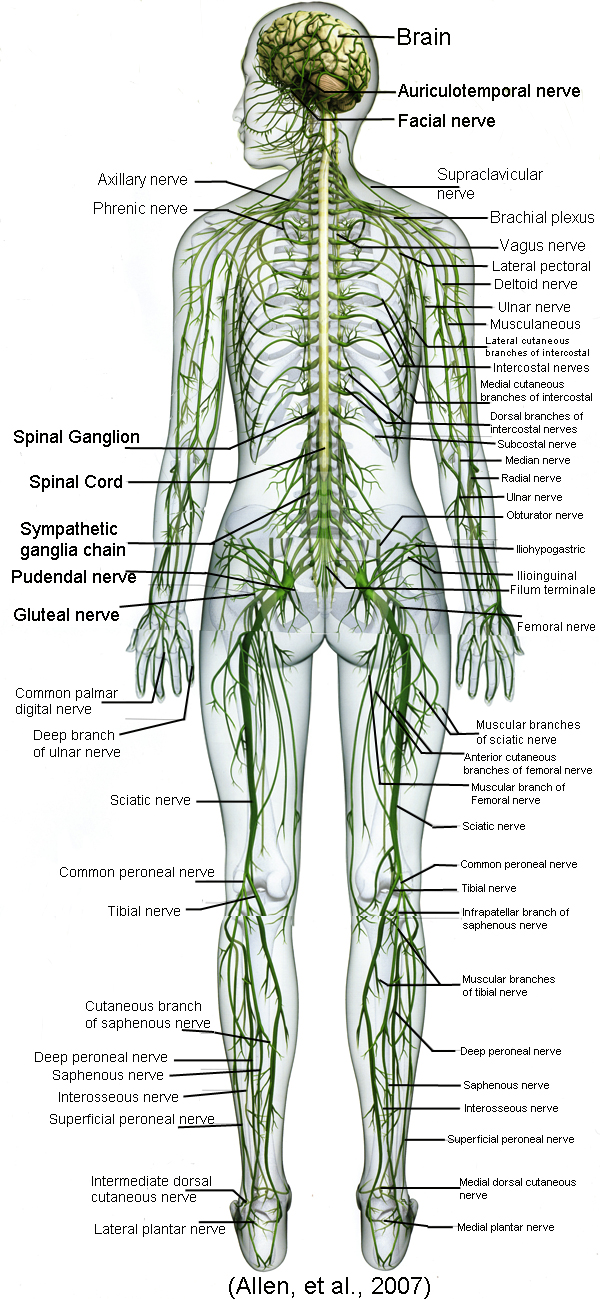 Why Know about Nerves?
Knowing about the nerves in the body is important to BDSM because different types of play can damage nerve endings and the impulses our nerves send give us information about our environment. This section may not be as crucial as other sections but it can increase your overall understanding of the human body which can enhance your play and increase your safety. The most important thing to remember when engaged in play is that nerves tend to respond more from continued stimulation. If you, for example, pinch a portion of skin lightly it will not necessarily cause enough of a reaction on the nerves for the person to register; however, if you continue to rapidly pinch the same portion of skin lightly the continued stimuli will have a cumulative effect that will sensitize the skin. This nerve reaction is known as temporal summation (Kalat, 2004).
What You Need to Know About Nerves
The more you understand about how your body works, the safer you will be able to play with your partner. Knowing about and being comfortable with your body is also an important step to be present in the moment for your scene. All these things add up to a more enjoyable play experience. These topics cover some general and specific knowledge about the nerves in the human body.
Protect Yourself Against Nerve Damage
Certain types of BDSM can impact blood flow and cause nerve damage. Part of keeping yourself healthy and fit to engage in kink is to protect yourself against injury that can deaden your nerve endings. Be aware of how the nerves and other systems in your body work for a long and fulfilling fetish lifestyle.
Written September 9, 2011 | Updated April 27, 2015
Article References
Allen, M., Bagg, A., Hamilton, J., John, K., Fricker, J., de Burgh, J., et al. (2007). The Human Body Book. New York: DK Publishing.
Kalat, J. W. (2004). Biological Psychology 8th Edition. Toronto: Nelson Thomson Learning.
Image References
Someone else's art deserves recognition! The images presented in this article were borrowed from the following places:
Header Image: http://images.gizmag.com/hero/george-bittner4-32.jpg | Retrieved April 28, 2015
Image 1: Allen, M., Bagg, A., Hamilton, J., John, K., Fricker, J., de Burgh, J., et al. (2007). The Human Body Book. New York: DK Publishing.